JIS G 3131-Commercial Hot Rolled SPHC Steels
What is SPHC Steels?
SPHC steel is a commercial quality hot rolled steel. SPHC is a material grade and designation defined in JIS G 3131 standard. JIS G 3131 is a Japanese material standard for hot rolled steel. The commercial quality hot rolled steel is a type of steel that can be used commercially for forming purposes that can also include sharing of a metallic sheet.  SM570 Steel is also hot roll steel but it is specifically used for welded structures because of high material strength.
What is JIS G3131?
JIS G3131 is a Japanese standard for hot roll steel. This Standard specifies the technical requirements of the hot-rolled mild steel plates, sheets, and strips.
SPHC Full Form
Sources say SPHC steel full form is Steel Pickle Hot-rolled Coil. But it is a Japanese material and this full form is not valid since SPHC can be a plate or a strip instead of a coil.
Hot Rolling Process
When a material grade is specified as hot rolled steel, it means it has been subjected to a manipulative process of hot rolling in which a metal bar is passed through high tension rollers above the re-crystallization temperature of the input metallic material. The roller does not only decrease the thickness of the sheets but also changes the grain structure of the steels.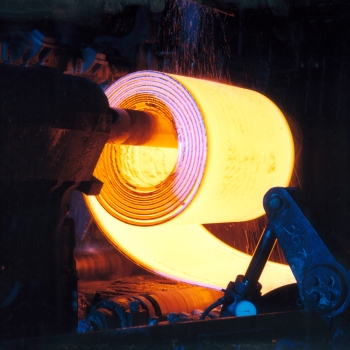 Dimensional Specs of SPHC Steels
The applicable thickness for this SPHC material as defined in the JIS 3131 starts from 1.2 mm to 14 mm.
However, the width of SPHC material ranges to 2000 mm.
The Chemical Composition of SPHC Steels
JIS G 3131 defines the chemical composition of SPHC steels as under:
Maximum percentage of Carbon (C) is 0.15 percent.
Maximum percentage of Manganese (Mn) is 0.60 percent.
Maximum percentage of Phosphorous (P) is 0.050 percent.
Maximum percentage of Sulphur (S) is 0.050 percent.
Remaining is Iron (Fe) percentage and with few negligible impurities.
Mechanical Properties of SPHC Steels
The tensile strength of the SPHC Steels is expressed in Newton per millimeters and it must be at least 270 N/mm2 (MPa).
The elongation property of SPHC steel varies with the ranges of thickness.  The minimum percentage ranges for elongation is from 27 to 31 percent starting from 1.2 mm to 4 mm and over.
Equivalent Material Grades in Other International Standards
The American Standard for Hot-Rolled Materials A 1011/A 1011M-07 CS type A-D Steels
The International Standard for Hot-Rolled Materials ISO 3573 2008 HR 1 Steel 
Applications of SPHC & Commercial Hot Rolled Steels
SPHC Steels are primarily used in pipe and tube manufacturing. These are also used in various applications of Construction including Ship Plate, Wear Resistant Steel and Container Plate,
SPHC hot rolled steels coils are also consumed in many cold-rolled and galvanized product, for example, CR sheets, GI coils, and color plates etc.
These are also extensively used in some of the automotive manufacturing, electric products, vehicles, aviation. Precision, meters, food cans, welding pipe making, C- channel, steel rims, storage rack, motorcycle parts, steel furniture, water heater & coolers, etc.
Feasible Manufacturing Operations
Bending, shaping, lancing and piercing etc all are common operations that can be done on these steels.
Brownish Red Discoloration – rust
This material needs pickling before use since it discolors to brownish red and develops a thin layer o rust on it. Therefore it is recommended to perform a pickling process before consuming this type.
Babies or Product Grades of SPHC Steel
JIS G 3141 Commercial Cold Rolled SPCC Steels
JIS G3141 Drawing Quality Cold Rolled SPCD Steels
ISO 3574 1999 Commercial Cold Rolled CR 1 Steel
JIS G3141 Extra Deep Drawing Quality Cold Rolled SPCG Steel
JIS G3141 Deep Drawing Quality Cold Rolled SPCE Steel
Learn how different material grades can be prepared from SPHC steels in Process Illustration.
MATERIAL TRADING
PURCHASE THIS MATERIAL
Do you want to buy SPHC steel?
We can help you with buying hot roll steel. You can send your inquiry by using our GDPR Compliant Order Inquiry Form.
SELL SPHC MATERIAL
Do you want to become our premium supplier of hot roll steel?
We can help you find customers looking for hot roll steel, you can provide us your quotations by using our GDPR compliant Online Quotation Form.
Suppliers of SPHC Steels
| | | |
| --- | --- | --- |
| Suppliers | Contact | Address |
| Tianjin Jianghailong Steel Co., Ltd. | 0086-22-24966667 | No.51, Building B, Binhai Steel Market, Dongli District, Tianjin City, China. |
| Henan Xin Gui Xiang Steel Co., Ltd. | 86-372-0372-3172006 | |
| Nobleagle Trade & Investment Ltd | +86-21-5109 7292 | Room 1108, Unit B, Wanda Square, No.36, Guobin Road, Yangpu District, Shanghai,China |
| Shanghai Vova International Trade Co., Ltd. | 86-21-66591271 | Room 1809, D Area, Anderson Plaza, No. 1211 Mudanjiang Road, baoshan District, shanghai, China |
Note: Mechanical and chemical properties given in values are indicative and for information purpose only. Some of the given information can be outdated. There are also minor possibilities for inaccuracies in the text due to human error. For inaccuracies & outdated text you can 
Complaint Us.