ASTM A615 Reinforcement bar A615-60 Grade Steel
What is A615-60 Grade Steels? A615-60 grade steel is a structural billet steel for structural applications. A615-60 grade is a material grade and designation defined in ASTM A615 standard. ASTM A615 is an international material standard for Deformed and Plain Billet-Steel Bars for Concrete Reinforcement for strengthening application. A615-60 grade Steel is higher in strength as compare to A615-40 steel.
Dimensional Characteristics of A615-60 Grade Steels: The applicable diameter for this A615-60 GRADE material as defined in the ASTM A615 ranges to 22.2-28.7 mm. The perimeter is usually around 69.8-90 mm. The cross sectional area is about 387-645 mm2.
The Chemical Composition of A615-60 Grade Steels: ASTM A615 defines the chemical composition of A615-60 Grade steels as under:
Only Maximum percentage of Phosphorous (P) is identified by the standard i.e. 0.060
Remaining is iron (Fe) percentage and with few other alloys and negligible impurities.
Mechanical Properties of A615-60 Grade Steels: The tensile strength of the A615-60 Grade Steels is expressed in Newton per millimeters and it must be at-least 620 N/mm2 (MPa). The yield strength is minimum 413 N/mm2 (MPa). The minimum percentage ranges for elongation is 9% thicknesses. 180 degree bends on 3.5 diameters.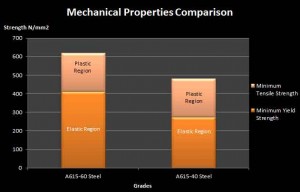 ASTM A615 Grade 60 rebar is commonly utilized as a tensioning stratagem in reinforced concrete and strengthened building materials structures holding the concrete in compression. It is typically used in Construction, Bridge Building, and Road Building etc.