Nylon 66 – Synthetic Polyamide Thermoplastics
Like plastics, nylon is one of the most-used synthesized materials in the world. Nylon 66 is one of the most important of its type and is widely used in industries. Human beings use nylon in their everyday lives, and its production dominates major industrial and commercial activities. As a thermoplastic made up of petroleum, nylon has two important types i.e.
This blog on Nylon will provide brief insights on its properties as well as on its major industrial applications.
What is Nylon Grade 66?
Nylon grade 66 is a type of polyamide. Also known as nylon 6-6, nylon 6/6, nylon 6,6, or nylon 6:6, it is used along with nylon 6 in the plastic and textile industries.
Chemical Composition of Nylon 66:
Nylon grade 66 comprises of the following:
Two monomers containing six carbon atoms
Hexamethylenediamine, and
Adipic acid.
Properties of Nylon Grade 66
Chemical Formula: (C12H22N2O2)N
Density: 1.140gm/mL
Melting Point: 264 oC (507oF).
Advantages of Nylon Grade 66
Nylon 6/6 is a highly abrasion-resistant material.
It possesses high tensile strength.
It is highly resistant to photo degradation.
Nylon 6:6 reduces moisture in sensitivity of raw products while having a high dimensional stability and melting point.
Nylon 6-6 does not fade easily after dyeing.
Solvents such as water and alcohol do not effect its chemical properties.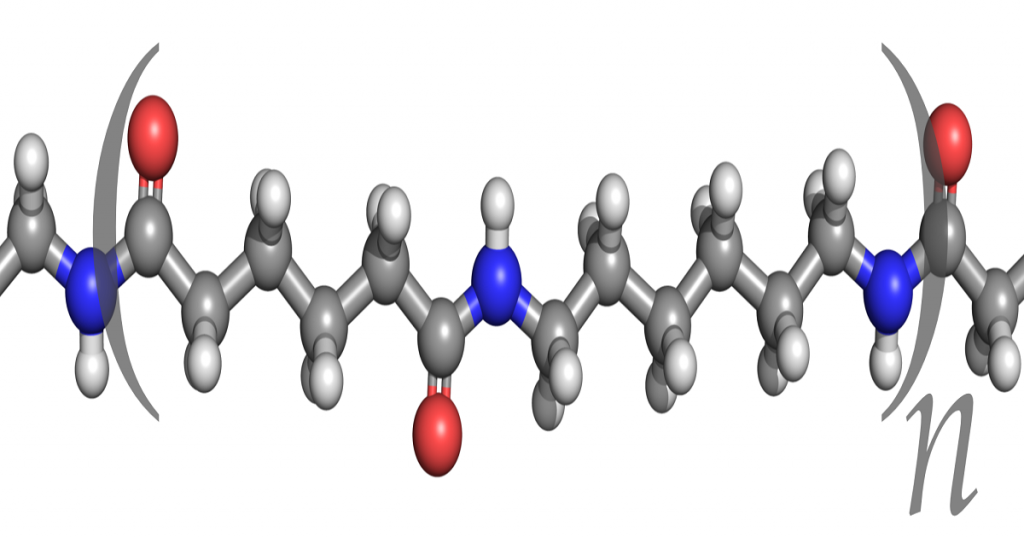 Learn about Amporphous Polyamide Thermoplastics here

Material Grades
Synthesis of Nylon 6-6
Polycondensation-Step 1
In the first step, hexamethylenediamine and adipic acid are polycondensed with water. This reaction takes place in a reactor.
Crystallization-Step 2
Polycondensed hexamethylenediamine and adipic acid crystallize themselves into nylon salt which is a mixture of ammonium and carboxylate.
Polymerization-Step 3
This nylon salt gets polymerized in a reaction vessel. Also, water is removed from the nylon salts in this step, leading to the formation of amide bonds.
Formation of Molten Nylon 6,6-Step 4
Removal of water and amide bond formation leads to Nylon 6,6 formation.
Formation of Filaments-Step 5
From molten Nylon 6-6, nylon filaments can be obtained in two ways:
By immediate extrusion and granulation of the molten nylon 6-6, or
By direct spinning of nylon fibers as they are extruded through a spinneret. These fibers are cooled later on.
Overall Reaction in Nylon Synthesis
n(HOOC-(CH2)4-­­COOH)+n(H2N-(CH2)6-NH2)–>[-OC-(CH2)4-CO-NH-(CH2)6-NH-(CH2)6-NH-]n+(2n-1)H2O
Industrial Applications of Nylon 66
In Harsh Industrial Environments
Nylon 6:6 is used in industries requiring high mechanical strength, rigidity, and good stability under heat or chemical resistance.
In Textile Industries
Nylon 6:6 is frequently used in textile industries. Some of its particular applications are:
Carpets
Luggage bags
Airbags
Apparel
Carpet fibers
In the Production of 3D Structural Objects
Nylon 66 is used to prepare 3D structural objects by injection molding.
What is Injection Molding?
Injection molding is a process in which object production takes place by the injection of molten material into a mold. This process is applied in the production of elastomers, confections, glasses, and thermoplastic polymers.
In Automotive Industry
Nylon 6:6 has various applications in the automotive industry, such as
Radiator end tanks
Rocker covers
Air-intake manifolds
Oil pans
Hinges
Ball-bearing cages
Miscellaneous Applications
Other industrial applications of Nylon 6-6 are:
Electro-insulating elements
Pipes
Profiles
Different parts of machines
Cable ties
Conveyor belts
Hoses
Swimwear manufacturing
Parachute manufacturing
Outer-layer of turnout blankets
Polymer-framed weapons
Industrial Applications of Glass Fiber Reinforced Nylon 66
Glass-fiber reinforced nylon 6,6 grades are widely used in flame-retardant systems. These flame retardant systems are then used in the Electrical and Electronics (E & E) industry.
Fire Repellent Property of Nylon 6-6
The use of halogen-free products on glass fiber reinforced nylon 6-6 makes it fire-retarded. Instead of halogen, these fire-safe polymers are based on aluminum diethyl phosphinate and its synergists.
Compliance of Fire-Proof Nylon 6,6 Fibers
The fire-proof nylon 66 fibers are compliant with the following:
UL 94 Flammability tests
Glow Wire Ignition Tests (GWIT)
Glow Wire Flammability Tests (GWFT)
Comparative Tracking Index (CTI)
Looking for Premium Nylon 66 Suppliers?
Material Grades is providing the list of manufacturers with premium quality Nylon 6-6. The material includes ordinary nylon as well as fire-proof nylon. Use our GDPR Compliant Inquiry Form to send us your inquiry. We have listed some of the premium Nylon 66 manufacturers and suppliers for you here:
Mitsubishi Chemical Advanced Materials Asia Pacific Ltd. Address: Unit 7B, 35/F, Cable TV Tower, 9 Hoi Shing Road, Tsuen Wan, Hong Kong, bearing contact number 852 2470 26 83.
Ensigner Plastics. Address: 1265 North Patt Street, Anaheim, CA 92801, USA, bearing contact number: +1 714 459 9964.
RTP Company. Address: 580 East Front Street, Winona, Minnesota 55987 USA, bearing contact number: 1 507-454-6900.