Industrial Applications of Pulsed Power Technology
There are any different applications of pulsed power technology. As far as experience regarding materials & medical industry is concerned, these are used for metal fabrication as well as metal forming. Some of the examples of metal fabrication are pulse plating and plasma nitriding in hard coating deposition. Moreover metal forming involves the subjection of work-piece against a tool by electromagnetic discharge pulse. In medical industry some parts of the prototyped surgical instrument is prepared this way. Pulse reflectometry technology along with ultrasonic mechanism is used for inspection of material. It is used for detecting holes, blockages and other material defects.
Metal forming & metal fabrication is some of the key areas where pulse power technology is used. In metal fabrication, pulse plating is an advanced concept where electrolytic solution is used to plate materials, pulse plating improves plating solution distribution as well as it reduces the consumption of chemical and gives a homogeneous plating surface. As far as metal forming in high velocities by using pulse power technology is concerned, the ductility of the material is improved.
Chrome plating is the common process for plating medical instruments. As example chrome plating though pulse plating is done, we use voltage of 5-15 Volts, & the value of current depends on size of material. The pulse length is beneath 1 millisecond, the rise time is 400 A/ms, Max power is the product of maximum current i.e. 25 kA & 15 Volts.
The pulse current has two different kinds of layers one is stationary layer and the other one is known as pulsating layer. The sum of which is the total layer being diffused on the surface and that total layer is what we obtain in conventional DC plating. With this process we actually get limits the maximum of frequency to 500 hertz.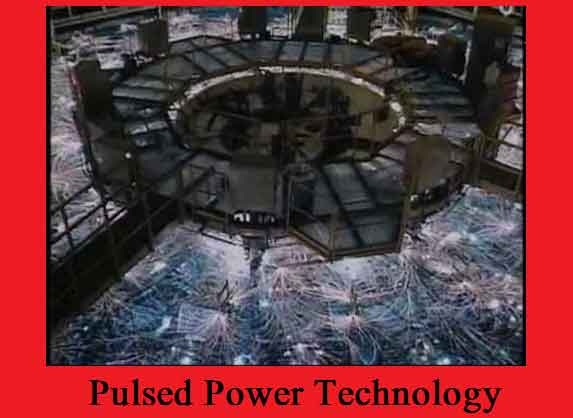 The numeric values are already discussed above, anyhow as far as the optimized values are concerned, these are as follows: Duration should be around 500 micro second, rise time 400 A/ms, maximum power 15 kW, repetition rate as per shape of the object.
SOS based pulsed power technologies have variety of applications. There are various transistors combination for SOS are used. They are mainly consumed based on two parameters:
Voltage and current
Power and frequency
Top three Semiconductors are for these combinations are:
MOSFET for inferior power and elevated frequencies
IGBT for medium power and higher frequencies
GTO thyristors for high power and low frequencies
The three attributes that which is liked most about switch that you currently use in pulsed power technologies are as under:
Low Cost
Low Maintenance
Operating Temperature
Thyristors one of the SOS based pulsed power technology has limitation in blocking maximum Potential difference, minimum current rise time and average maximum current. A normal thyristors are limited to 500A/ms. Modifications are proposed to monitor it. Thyristors must be switched off rapidly so that it can rebuild itself for next impulse. For this reason the SOS based thyristors are also very slow.
As this technology is a source of electromagnetic radiations there are various regulations that will affect its market. There are direction of EMC i.e. electromagnetic compatibility that can affect the market. The focus is on the radiations and their disposal. Moreover the application of personal safety regulations at the point of work is needed and it will shape the market accordingly.
Prospect For Future: Actually this is a potential growing field, I am sure that there is much research work that is done. This field has applications to bio Nano electronics and biological models as well. These are also used in potential tumor