316 Stainless Steel – ASTM F899 Standard Austenite Material
What are 316 Stainless Steels?
316 stainless steel is a general grade for food processing & other specialized applications. The peculiarity of this austenitic steel is due to alloying of chromium-nickel along with molybdenum. This chemistry plays the role of high corrosion resistance, and increases resilience against pitting in environments having chloride ion solutions. Due to its chemistry, it can withstand in high temperature.
Properties are different to those of 303 stainless steel in a way that this 316 material is more robust at higher temperatures. The melting of this type starts at 1371 degree centigrade.
---
Is 316 Stainless Steel Magnetic?
These are having FCC i.e. face centered cubic structure. It is a non-martensitic stainless steel. It is therefore nonmagnetic in its properties in the annealed state.
---
Dimensional Characteristics of 316 Stainless Steels
The applicable thickness in millimeters for this 316 Stainless Steels ranges from 0.25 to 6.35 whereas the width in millimeters is from 600 to 1200. Moreover outer diameter of pipe in inches ranges from 0.65 to 8.25
---
Available Forms in Market
Following are the available forms of 316 Stainless Steels:
Stainless steel sheets & plates
Coils
Forged Parts
Customized shapes
Stainless steel wire
Stainless steel tubing & pipes
---
The Chemical Composition of 316 Stainless Steels
Chemical alloying compositions are explicated below
Maximum percentage of Carbon  is 0.07
Maximum percentage of Manganese is 2.0
Maximum percentage of Phosphorus is 0.045
Maximum percentage of Sulphur  is 0.03
Percentage of Molybdenum is indicated between 2.0 to 2.5
Maximum percentage of Silicon  is 1.0
Maximum percentage of Nickel is 13.5 and minimum is 10.5
Maximum percentage of Chromium  is 18.5 whereas minimum percentage of Chromium is 16.5
Rest is the base metal i.e. iron.
---
316 stainless steel have outstanding forming and welding qualities. It easily formed into shapes and numerous components for uses in the surgical instrument manufacturing, food processing, marine, construction, and shipping areas. 
---
Mechanical Properties of 316 Stainless Steels
Tensile strength is around 579 Mpa as in some sources.
Yield strength is 290 Mpa (in some technical sources)
Hardness in HB (in technical sources) is around 230.
Elongation is 50% in 2″ in the standard.

Type 316 also has exceptional welding qualities. After welding of thin sections, annealing is not needed.
---
Equivalent Materials of 316 Stainless Steels
The equivalent materials for 316 Stainless Steels specified in other recognized standards are as follows:
In AISI Standard, it is AISI 316 stainless steel.
In JIS standard, the equivalent material are SUS 316 and SUS316TP type steels.
In DIN standard, the equivalent material is 1.4401 type steel.
In UNS standard, the equivalent material is S31600 type steel.
---
Comparative Material Studies
We tested samples of 316 stainless steel against 17-4 PH stainless steel and 304 stainless steel. We provide the comparison analysis separately in two different articles below: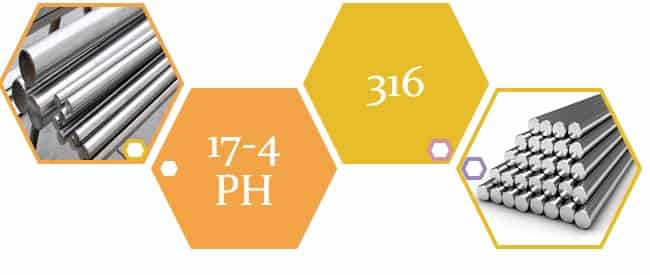 Industrial Applications of 316 Stainless Steels
Variety of industrial and household applications consume this material, some of the applications are as follows:
Food preparation appliances especially in contaminated environments.
Surgical Speculas & medical implants
Equipment in Lab and special benches.
Coastal construction paneling, boat fittings, railings & trim.
Chemical Handling Equipments
---
Material Trading
Purchase 316 Stainless Material
Do you want to buy 316 stainless steel?
We can help you in buying 316 stainless steel. You can send your inquiry by using our GDPR Compliant Order Inquiry Form.
Sell 316 Stainless Material
Do you want to become our premium supplier of 316 stainless steel?
We can help you find customers looking for 316 stainless steel, you can provide us your quotations for 316 stainless steel by using our GDPR compliant Online Quotation Form.
Premium Supplier
West Yorkshire Steel Ltd
E-mail: sales@westyorkssteel.com
Contact No. +019 37584440
Address: Sandbeck Industrial Estate, Wetherby, Leeds. LS22 7DN UK.

---
Note: Mechanical and chemical properties given in values are indicative and for information purpose only. Some of the given information can be outdated. There are also minor possibilities for inaccuracies in the text due to human error. For inaccuracies & outdated text you can Complaint Us.