UNS S17400 Stainless Steel Precipitation Hardening Grade
What is S17400 Steels? This grade of steel is a precipitation-hardened steels. They are a mix of austenitic and martensitic steels. S17400 is a material grade and designation defined in UNS ASTM A564 standard. As chromium-copper carbon steel it can be enumerated in both austenitic and martensitic stainless steel.
What is ASTM A564 / A564/M? It is an American material standard for Specification for hot-rolled and cold-finished age-hardening stainless steel bars and shapes.
Why S17400 called Alloy 17-4 Stainless Steel? When a material grade is specified as stainless steel, it means it has chromium content in it. S17400 is the UNS designation alloy, also referred as 17-4 alloy and is defined in ASTM A564 standard. It is different with UNS S42000 Stainless Steel Martensitic Grades as it is a combination of two micro-structures along with hardness and better corrosion resistant properties.
S17400 material  is a martensitic and austenitic combination of stainless steel. This material type contains at least 15% chromium, adequate to offer excellent corrosion resistant properties. Alloy 17-4 has copper content in it.
Available Forms in Market: Following are the available forms of S17400 steels in the global market:
Steel Coils
Steel Bars
Processed flat bar
Tubular products
Sheets
Plates
Round bars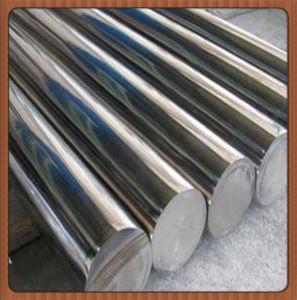 Dimensional Characteristics of S17400 Steels: The applicable thickness for this S17400 material as obtained by data in the market starts from 0.38 mm to 100 mm. However the width of this material ranges to 660 mm and over.
The Chemical Composition of S17400 Steels:  The chemical composition of this grade is as under:
Maximum percentage of Carbon (C) is 0.07 percent.
Maximum percentage of Manganese (Mn) is 1 percent.
Maximum percentage of Phosphorous (P) is 0.04 percent.
Maximum percentage of Sulphur (S) is 0.03 percent.
Minimum percentage of Chromium is 15 percent and maximum is 17.5 percent.
Maximum percentage of Silicon (Si) is 1 percent.
Minimum percentage of Copper is 3 percent and maximum is 5 percent.
Minimum percentage of Nickel is 3 percent and maximum is 5 percent.
Minimum percentage of Columbium and Tantalum is 0.15 percent and maximum is 0.45 percent.
Remaining is iron (Fe) percentage and with few negligible impurities.
Mechanical Properties of S17400 Steels: Following are some of the mechanical properties of 17-4 steels:
The tensile strength of the 17-4 alloy steel is expressed in Newton per millimeters and it must be at-least 930 N/mm2 (MPa).
The brinell hardness is about 352, and in terms of Rockwell, C scale it is 36.
The elongation property of S17400 steel varies with the heat treatment process.
The minimum percentage ranges for elongation is from 8 to 16 percent.
S17400 is easily welded by fusion and resistance methods.
Precipitation Hardened stainless steels are made for high hardness and also for good corrosion resistance.
Corrosion resistance is better than the other known martensitic grades.
Equivalent Material Grades in Other International Standards: Read more about the
Equivalent grade of this type in French standard AFNOR is Z6CNU17-04
In DIN standard, the corresponding material is referred as 1.4542 type steel.
In European standard, the corresponding material is referred as X5CrNiCuNb16.4 type steel.
Applications of S17400 Stainless Steels: Applications are as under
Aircraft
Gas turbines
Oil field
Nuclear leftover or waste casks
Paper mills
Oil fields
Chemical process components
Food industry
Mechanical components like pump shafts or seals
Suppliers of S17400 Steel: Suppliers are also listed below:
Supplier AK Steel Corporation bearing contact number 800-331-5050.The supplier address is 9227 Centre Pointe Drive, West Chester, OH 45069.
Supplier Best Stainless & Alloys bearing contact number 001.713.482.4000.The supplier address is 11930 Proctor Road, Houston, TX 77038.