JIS G3112 Reinforcement bar SR30 Billet Steel
What is SR30 Steels? SR30 steel is a structural billet steel for structural applications. SR30 is a material grade and designation defined in JIS G3112 standard. JIS G3112 is an international material standard for reinforcement bar billet steel for strengthening application. SR30 Steel is higher in strength as compare to SR24 steel.
Dimensional Characteristics of SR30 Steels: The applicable diameter for this SR30 material as defined in the JIS G3112 starts from 6 mm to 34 mm. The length is usually around 10 to 12 meters.
The Chemical Composition of SR30 Steels: JIS G3112 defines the chemical composition of SR30 steels as under:
Maximum percentage of Carbon (C) is 0.34
Maximum percentage of Manganese (Mn) is 0.9
Maximum percentage of Phosphorous (P) is 0.050
Maximum percentage of Sulphur (S) is 0.05
Maximum percentage of Silicon (Si) is 0.350
Remaining is iron (Fe) percentage and with few negligible impurities.
Mechanical Properties of SR30 Steels: The tensile strength of the SR30 Steels is expressed in Newton per millimeters and it must be at-least 441 N/mm2 (MPa). The yield strength is minimum 294 N/mm2 (MPa). The minimum percentage ranges for elongation is 20% thicknesses.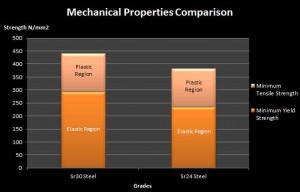 SR30 steel reinforcement bar billets are used for greater strength re-enforcement work for town house, office buildings, bridge, concrete road, agricultural equipment and in other industrial applications.