ISO 630 Structural Billet Fe-310 Steel
What is Fe-310 Steels? Fe-310 steel is a structural billet steel for structural applications. Fe-310 is a material grade and designation defined in ISO 630 standard. ISO 630 is an international material standard for billet steel for general structural usage. A billet is a piece of specific material that has a round or square cross-section, with a range less than thirty six square inch. Billets are produced through continuous casting or also through rolling an ingot or through the process of extrusion. Billets are additionally treated through profile rolling. Finishing merchandises comprise bar stock and wire.
Dimensional Characteristics of Fe-310 Steels: The applicable thickness for this Fe-310 material as defined in the ISO 630 standard starts from 10 mm to 100 mm.
The Chemical Composition of Fe-310 Steels: ISO 630 defines the chemical composition of Fe-310 steels as under:
Maximum percentage of Carbon (C) is 0.23.
Manganese (Mn) is not identified in the standard.
Maximum percentage of Phosphorous (P) is 0.070 percent.
Maximum percentage of Sulphur (S) is 0.070 percent.
Remaining is iron (Fe) percentage and with few negligible impurities.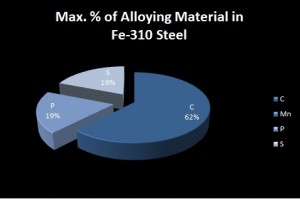 Mechanical Properties of Fe-310 Steels: The tensile strength of the Fe-310 Steels is expressed in Newton per millimeters and it must be at-least 310 N/mm2 (MPa) and maximum can be 510 N/mm2 (MPa). The yield strength is minimum 175 N/mm2 (MPa). The minimum percentage ranges for elongation is 17% thicknesses.
Fe 310 steel billets/plates are used to manufacture ships, bridge, since the material possess high strength sheet. Billets are also used for manufacturing of hot rolled steel. Examples of structural quality hot rolled steels are SS330 steel and SAPH310 steel.