What is Grade C Steels? Grade C steel is atmospheric corrosion resistant steel in the form of plates for specialized Strength applications. Grade C is a material Grade and designation defined in ASTM A588 standard. ASTM A588 is an American material standard for hot Rolled steel plates for corrosive environment & high strength applications.  
Dimensional Characteristics of Grade C Steels: The applicable thickness for this Grade C material as defined in the ASTM A588 starts from 2 mm to 460 mm. The width is normally from 600 mm to 2000 mm.
The Chemical Composition of Grade C Steels: ASTM A588-04 defines the chemical composition of Grade C steels as under:
Maximum percentage of Carbon (C) is 0.15
Maximum percentage of Silicon (Si) is 0.4
Maximum percentage of Manganese (Mn) is 1.35
Maximum percentage of Phosphorous (P) is 0.04
Maximum percentage of Sulphur (S) is 0.050
Maximum percentage of Copper (Cu) is 0.50
Maximum percentage of Nickel (Ni) is 0.50
Maximum percentage of Chromium (Cr) is 0.50
Maximum Percentage of Vanadium (V) is 0.10
Remaining is iron (Fe) percentage and with few negligible impurities.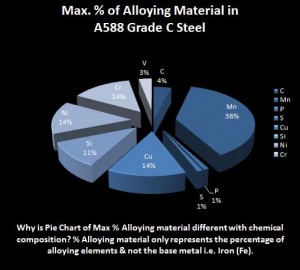 Mechanical Properties of Grade C Steel: The tensile strength of the Grade C Steels is expressed in Newton per millimeters and it must be at-least 485 N/mm2 (MPa). The yield strength is minimum 345 N/mm2 (MPa). The minimum percentage ranges for elongation is 21%.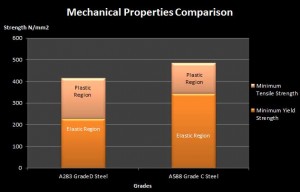 ASTM A588 Grade C is utilized for numerous kinds of welded, fastened and riveted structures e.g. steel frame constructions, channels, reservoirs and vessels, vehicles and tools structures.