Air Hardening Steel – Definition & Properties
What are Air Hardening Steels? Air hardening Steels are a class of steels which have the ability to be cooled down from a temperature above their transformation range and hardened by keeping in air or similar gaseous mediums.
This type of steel lies within the category of Tool Steel which is valued for its hardness, abrasion resistance and the ability to hold its shape at high temperatures. Air Hardening steels are also known as group A or A grade tool steels to distinguish them from other types of tool steel which require different mediums for quenching.
Properties of Air Hardening Steels: Air Hardening steels contain Carbon in the range of 0.5 to 2%. In addition there are sufficient quantitities of molybdenum, Chromium and Manganese which give it the ability to harden by keeping in air with sections of around 100 millimetres in diameter. These steels have the ability to form a martensitic structure without the need for quenching which gives them this property.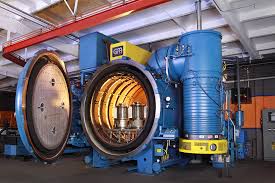 Characteristics of Air Hardening Steel: Air Hardening steels contain a high percentage of chromium which gives it a low distortion factor during heat treatment as well as reasonable toughness, wear resistance and machinability. Air Hrdening Steels are often used in Arbors, Cams, Die Bending, Blanking, Coining, Gages Cold Shear knives, Woodworking Knives